The first time I used Google Ads reminded me of the first time I tried to create something in Photoshop...it was intimidating and I didn't know where to start.

"Navigating Google Ads isn't always easy, especially if you're a new advertiser or a small business." The vast majority of Google Ads advertises setup simple account structures, with few ad campaigns, and often skip advance features, which may not apply or are unfamiliar to them.  
To make it easier for those smaller advertisers to manage their campaigns, we launched a
new

summary

view
. The summary view shows a simplified version of an account, surfacing what's most important, and ways to optimize performance in a simpler card based layout. 
I led UX for one of the largest efforts in product history addressing the needs for the majority of Google Ads advertiser's
Simplify the Google Ads experience for smaller advertisers, who have much simpler accounts.
By looking at our advertisers' data, we surface content and features that are most relevant to them in a lightweight and glanceable card based view so they can make sense of their campaigns.

The Google Ads Summary view started as an experiment within a lean and agile team of engineers, project manager, research, and UX. 
The project's main UX challenges were to create a scalable product on top of the exiting Google Ads platform to support all types of advertising campaigns (
using
existing components), bring alignment across functional partners for a common goal, and lack of design resources.
Through building partnership, understanding engineering needs and priorities, and working in a startup environment, we were able to launch one of the most significant UX enhancements to Google Ads within a year.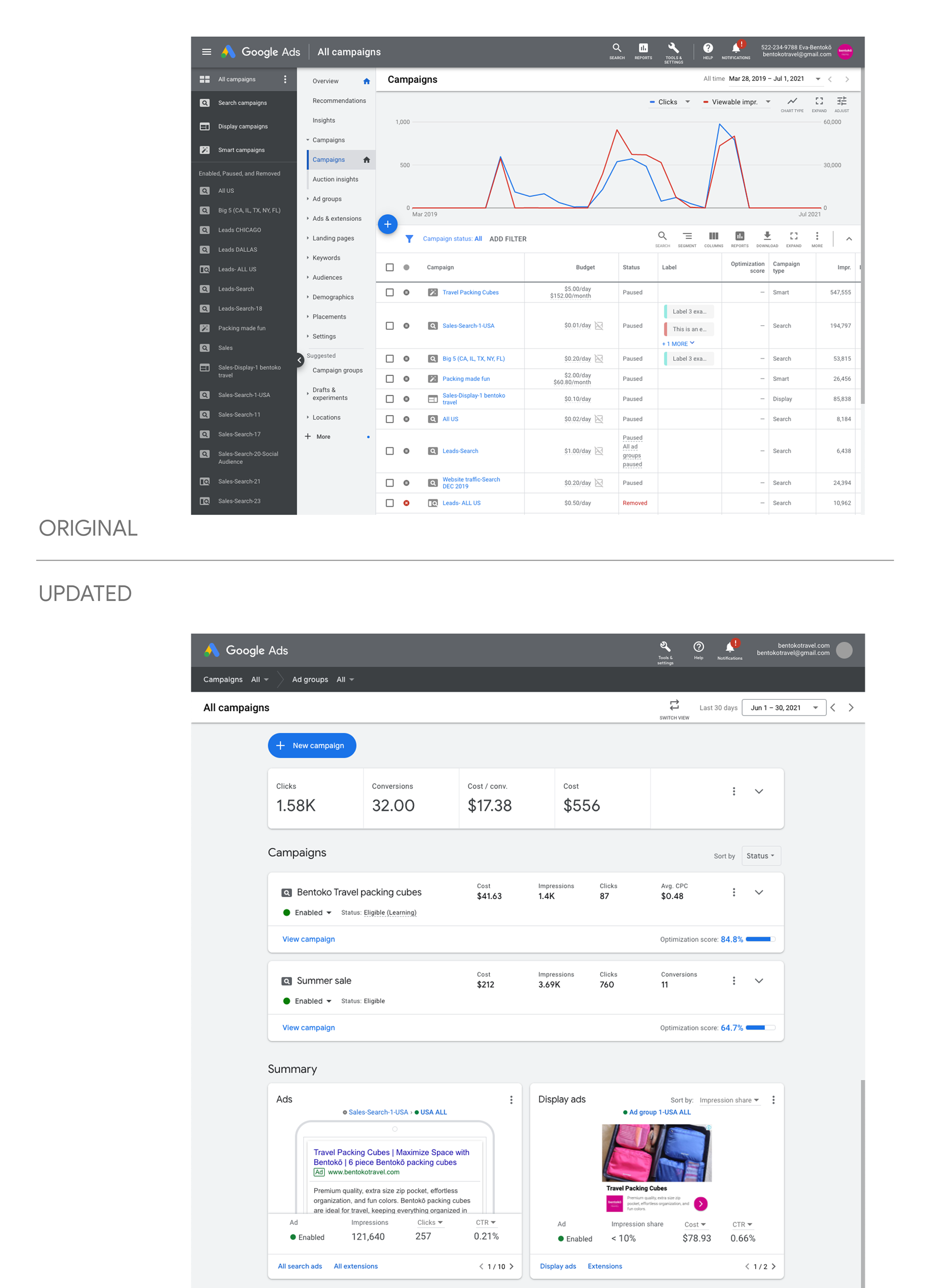 After successfully driving UX alignment and approvals across functional teams, achieving organization's ease of use goals, and launching the new Google Ads Summary view in 2021, the product's retention and satisfaction rates for smaller advertisers significantly increased with the new experience.