"Navigating Google Ads isn't always easy, especially if you're a new advertiser or a small business.

"
- Peter, small business owner
The vast majority of Google Ads advertises setup simple account structures, with few ad campaigns, and often skip advanced features, which may not apply or are unfamiliar to them.  
To make it easier for those advertisers to manage their ad campaigns, we launched a
new

summary

view
. The summary view shows a simplified version of an account, surfacing what's most important at a glance, and ways to optimize performance in a simpler card-based layout. 
I led the end-to-end experience for one of the largest product development initiatives in Google Ads history, focusing on the needs of small to medium advertisers. The project resulted in the creation of a new platform, supporting different campaign formats, which significantly simplifies the Google Ads experience for over 5 million customers. 
Simplify the Google Ads experience for smaller advertisers, who have much simpler accounts.
By looking at our advertisers' data, we surface content and features that are most relevant to them in a lightweight and glanceable card-based view so they can make sense of their campaigns.

The Google Ads Summary view started as an experiment within a lean and agile team. The project's main challenges were creating a scalable product on top of the existing large and complex Google Ads platform to support all advertising campaigns (using existing components), bringing alignment across multiple functional partners for a common goal, and limited design resources.

Through building partnerships, understanding engineering needs, and priorities, and working in an agile environment, we were able to launch one of the most significant UX enhancements to Google Ads within a year.  
Discovery through research
With a well-defined strategy, I led successful workshops showcasing the key elements of our plan by facilitating idea generation with the team, resulting in a number of creative solutions across areas of opportunities.

Our design process was driven by thorough research, including competitive analysis, customer insights from surveys and interviews, and usability testing. I took the lead on crafting research scripts and surveys, and used prototyping to bring our product vision to life and test its effectiveness.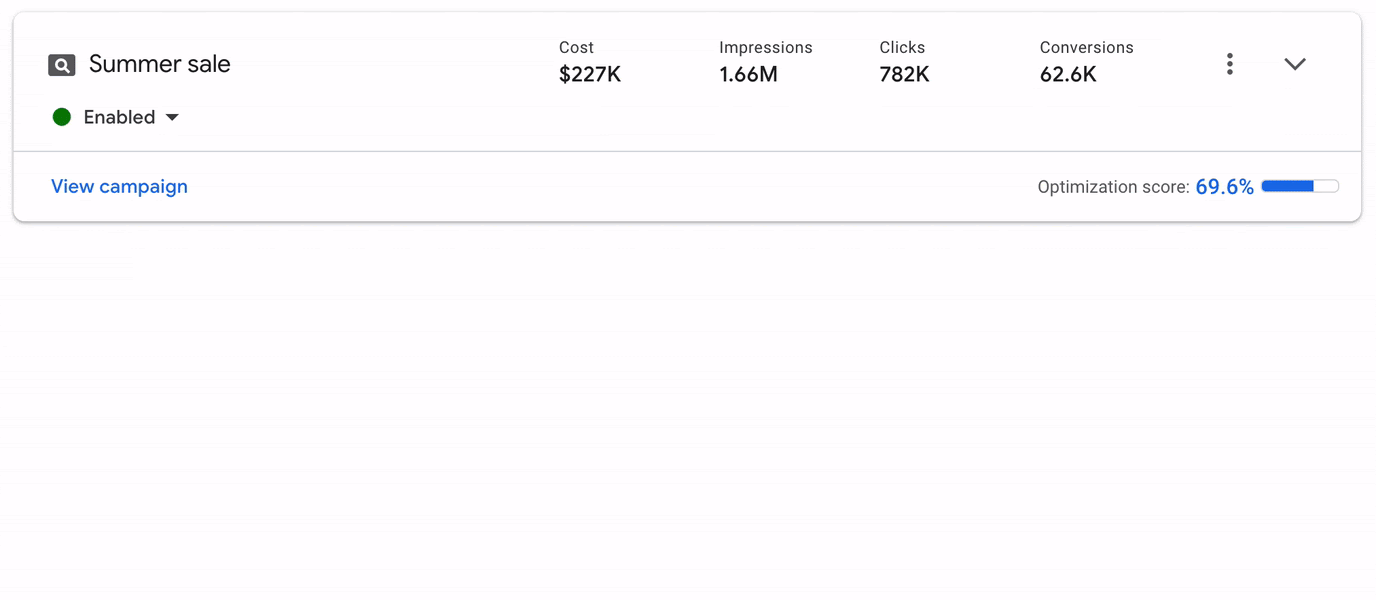 NEW PLATFORM



In the previous experience most of our users shared the same feedback on:

•Data heavy - tables and options leading to cognitive overload
•Complex navigation - finding information hard to get to
•Campaign editing - experience is disjointed from construction experience
In the new platform, I addressed our user's challenges by designing a card based framework experience with a simplified navigation and editing flow

•Card based experience to easily understand ad performance
•Simplified navigation through campaign and summary cards
•Edit ads through a familiar ad creation experience

The framework was built to scale, adhering and adding on to a larger design system, and supporting the complex requirements from partner teams across different channels (shopping, video, app, etc.) 

LARGER DESIGN SYSTEM

Google Ads was embarking on a multi-year journey to adopt a new design system referred as Google Material 2, and I saw this as an opportunity to introduce the new Summary View as a potential candidate for our Design System Group. I teamed up with them to ensure that the Summary View fit seamlessly with our current components, adhered to accessibility standards, and was fully converted to Google Material 2.
Product Vision
I brought the vision for our new Summary View Platform to life by creating prototypes that aimed to show how it could help users identify opportunities, make informed decisions, and confidently set up tailored advertising campaigns. These prototypes inspired the product team to strive towards our North Star and unlock new possibilities.
Through effective leadership and collaboration across teams, I successfully aligned UX and obtained approvals to achieve the company's ease of use goals, culminating in the successful launch of the new Google Ads Summary view in 2021. As a result, retention and satisfaction rates for smaller advertisers significantly improved with the new user experience. This was a significant and challenging project, requiring input and approval from high-level leadership and multiple review forums. 
I played a key role in driving cross-functional and technical team understanding and buy-in for proposed changes to the existing platform, using data analysis and minimizing infrastructure changes. The design framework for the Google Ads Summary view established a new standard, serving as a foundation for future design patterns and integrating with the broader Google Ads design system.
"This is amazing! It's a lot easier on a basic level where I need to go and gather information on the fly quickly, rather than being overwhelmed by the UI

"